Company News
The company headquarters Chief Quality Officer swears in
Dec 01,2015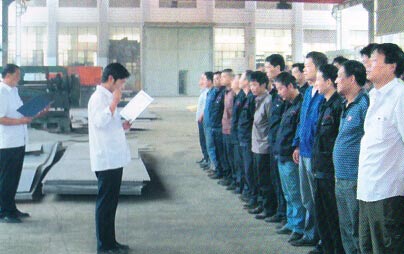 Recently, on the Stuff Meeting at our company headquarter, we hold the first time Chief Quality Officer appointment and swearing in ceremony. Quality Inspector Ji Zhonghua, who has passed the examination of China Quality Certification Center and awarded by Municipal Quality Supervision Bureau, is appointed as the first Chief Quality Officer in Great Wall Company.
The establishment of Chief Quality Officer system is important implement the National "quality development program" (2010~2020), and is is the implementation of the quality and rejuvenating, quality level, an important measure to guide and lead the enterprises to the quality level, the innovation of science and technology development in a virtuous circle road. Our company responded the call of the government, recommend the company headquarters, quality inspection work of college students is responsible for Jin Zhonghua participated in organized by the Provincial Quality Supervision Bureau, 8 courses China Quality Certification Center Training: the quality of national development policies, legal system, the quality of enterprise chief quality officer system, the quality of enterprise strategic management, brand management, and after the examination qualified enterprises, issued by the chief quality officer job training certificate. The company appointed and let the oath of office, is a new starting point for the company's quality management work.
Feng Zhijun deputy chief in the swearing in ceremony to tell everybody, the company is so solemn serious this ceremony, there are three important implications: first, strengthen quality management and supervision and inspection, has been included in the government at all levels and the competent department of agenda; second, our company to strengthen the brand management and determination of improve product quality, Chief Quality Officer responsibility; third, improve staff quality awareness, support the work of Chief Quality Officer, acceptance the product inspection and supervision, to occupy the market with quality brands and promote enterprise development.