Company News
Industrious And Brave Good Worker:Yang Jianye
Jun 12,2014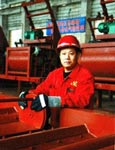 Yang Jianye is 35 years old and he worked in our company for 13 years.when he acted as a workshop director in the first factory,he is a brave one.he always was the lead,and complete task with other workers firstly.later,because of work requirements,he was transferred into our company headquarters and appointed as the workshop director of JS750 concrete mixer machine assembly class.in this workshop,he feel more useless and better play to their strengths.
Yang not only first make great efforts in product structure and appearance,pay close attention to product quality,but the first to complete a monthly production tasks,since he led JS570 concrete mixer workshop.he received the concrete batching plant assembly work in this year.the staff always called sales of concrete mixing plant as "rocket contract".because sales want to delivery after they contacted right now.he play to their strengths and worked day and night with him partners,so that he can finished tasks successfully on time.

Because our company allocated production tasks,he always stood up and volunteered first,and ensured to complete tasks on time,as long as there are urgent and difficult jobs.our leaders and workers always praise him:Yang is a industrious and brave good worker.