Industry News
Two honors of national outstanding enterprise in quality and integrity for our company
May 22,2015
After The National Quality Administration and China Association for Quality Inspection Organization survey and summarize enterprises, they carry out the selection activity. In the contest , due to our all products were checked by all levels of product quality supervision departments and the results were excellent during the period of 2010-2013 , my company obtained two honors " excellent enterprise quality and integrity of the country " and "National quality Inspection and stability of qualified products" and were awarded certificates .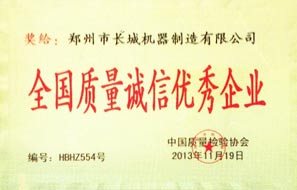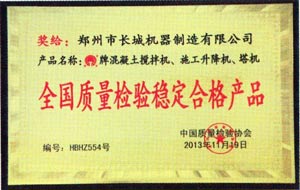 Strict conditions of this activity are: All products did not record any case of failure at the national, provincial , municipal or other product quality supervision quality testing in the period 2010-2013. In recent years , the company has not happened any mass accidents .In addition, related business activities of enterprises can strictly abide by relevant laws, regulations and standards etc. Otherwise, the enterprise was rejected.
My company followed the conditions above mentioned carefully. Besides, we also reported our quality brand products. We devote ourselves to build famous brand enterprise. Our company strives for survival and development on the basis of quality. We insist on producing zero-defect products so that users are satisfied with our productions.